More than 50 massage therapists gathered in Hyannis on December 7 and 8, 2013 for education with Tracy Walton and an AMTA-MA Chapter meeting.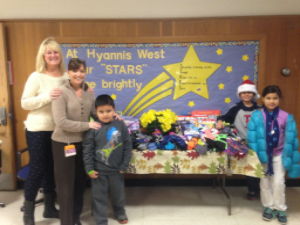 clientuploads/Old and or unused/hyaniss west donations 12 2013.jpgPresident Mary White welcomed all attendees and introduced the Board and volunteers present. She and 1st Vice President Lisa Curran-Parenteau reported on an upcoming reduction in the AMTA-MA Chapter budget, initiated by National AMTA's removal of state chapter fees from AMTA membership pricing. The chapter expects to lose approximately $90,000 a year which will result in some changes to benefits offered exclusively by AMTA-MA Chapter. The leadership is creating a plan to allow members to voluntarily contribute the previously mandatory $30.00 chapter fee directly to the chapter. Members should watch for news updates and emails at the end of December with more information regarding these changes.
Mary White thanked attendees for their generous donations of books, toys, hats, mittens and other needed items to the students of Hyannis West Elementary School. Donations were delivered to the school the next day, and volunteers receieved a warm welcome from the students and staff.
Education chair Deb Baker announced that the February 8 and 9, 2014 education and chapter meeting will be at the Hampton Inn, Boston/Natick. Ben Benjamin will be teaching Active Isolated Stretching. Registration is open on the AMTA-MA Chapter website here.
NERC Planning Committee member Jessica Meltzer reported that New England Regional Conference is March 20-23, 2014 at the Sheraton in Framingham. Registration is open at www.amtanerc.org. Up to 18 CE Hours and 6 meals are included in the registration price of $369. Early bird registration ends on January 31, 2014 and the price will then increase to $429.
The Annual Meeting weekend will be May 3 and 4, 2014 at the Sheraton Needham Hotel, and will feature education from Ralph Stephens and CPR certification on Saturday. On Sunday, our 54th Annual Meeting will be held, and will feature board elections, a vendor hall, lunch and a free 3 CE Ethics class. Registration will open in early March for that event.
3rd Vice President and Community Service Massage Team Chair Gail Dobinsky reported on the new CSMT team. Planning is going well and there will be a mock deployment at the February Meeting/Education event. Lisa Curran Parenteau announced the finalization of a Memorandum of Understanding (MOU) with the Massachusetts American Red Cross, making AMTA-MA Chapter the go-to massage provider in the event of an emergency in Massachusetts.
Online Marketing Manager Allissa Haines encouraged members to connect with and share content from the AMTA-MA Chapter on Facebook, LinkedIn, and Twitter, and to subscribe to the blog to receive each new post via email.
Lisa Curran Parenteau introduced an updated chapter mobile site and encouraged members to check it out on their smartphones and tablets.
Treasurer Farris Ajalat spoke about a new TD Banknorth fundraising opportunity. For each AMTA-MA Chapter member that has a checking account at TD Banknorth, the chapter will receive $10 per year. We will receive $50 for anyone who opens a new checking account. We will also receive a percentage of savings or investments yearly. More information will be shared with members on the website and in emails as it is available.
2nd VP and Membership Chair Kelly Dalbec announced that applications are being accepted for the 2014 Dianne Polseno Scholarship Award. There will be two recipients for the scholarship: 1st place: $1000.00 including a one year AMTA Graduate Membership; 2nd place: $750 including a one year AMTA Graduate Membership. Students can apply on the website here, and applications must be received by April 12, 2014. We ask that people continue to donate to this fund in Dianne's name to benefit these students applying. You can make a tax deductible contribution to the "Dianne Polseno Scholarship Fund" sent to TD Bank North, 175 Cabot St., Beverly MA 01015.
Awards Chair Sr. Pat Dowler spoke about the National awards the chapter received this year. She stressed the need for members to nominate their peers for the Humanitarian Award. Nomination information will be available on the website early in the new year. The 2013 award winner, Tracy Walton, was present and acknowledged for her contributions and service to massage therapists and clients in Massachusetts.
Mary White spoke about the Massage Therapy Foundation and the runners who raised $50,500 for the Massage Therapy Foundation last year. The MTF has 3 bibs in the 2014 Boston Marathon. This year AMTA has chosen an AMTA-MA Chapter member to receive a bib, Kristin Lutz. Members can find more information and donate here.
Mary thanked those in attendance, encouraged members to visit the website often and adjourned the meeting.