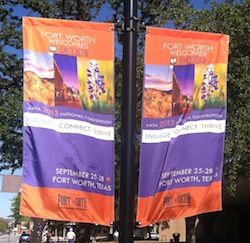 This year, the five elected AMTA-MA Chapter Delegates participated in the National AMTA House of Delegates (HOD) at the National Convention in Fort Worth Texas. Your MA Chapter Delegate Team, Lisa Parenteau, Kate Peck, Kelly Dalbec, Gail Dobinski, and Regine Ryder were here in full force representing our profession and the AMTA-MA Chapter members.
At the September Chapter Meeting in Northampton, the delegates presented and discussed the three Position Statements for consideration and vote in this year's HOD. Here are the results:
Proposed Position Statement 1: It is the position of the AMTA that massage therapy can improve health through its effects on the physical, mental and wellbeing of an individual.

This Position Statement did not pass. The majority of the conversation was about the broad nature of the research cited and that it was not specific to massage therapy. It was a close vote, but fell short of the two-thirds majority by two votes.
Proposed Position Statement 2: It is the position of the American Massage Therapy Association (AMTA) that massage therapy can assist in reducing the symptoms of anxiety.

This Position Statement overwhelmingly passed. The AMAT-MA Chapter delegates were in favor of this statement and were pleased it passed easily.
Proposed Position Statement 3: It is the position of the American Massage Therapy Association (AMTA) that massage therapy can improve health related quality of life for cancer patients.
This Position Statement did not pass. While it was a well-written statement, and the majority of the delegates agreed with the intent of the statement, but felt that it needed to be re-written with clarification to include verbiage and research relative to oncology-trained massage therapists and research to include contraindications for cancer patients. Delegates hope to see this Position Statement rewritten and resubmitted.
Also, as part of the HOD Meeting, we had the opportunity to vote for new committee members for the House of Delegates Operations Committee (HODOC) which is a national committee. We are pleased to announce, that Lisa Parenteau, your 1st AMTA-MA Vice President was elected to this very important committee! Congratulations! Also elected were Toni Roberts (GA), Laura Stevenson-Flom (CT), and Roxanne Young (HI).
Long time delegate and member of the House of Delegates Operations Committee Lisa Curran Parenteau said of the session, "I have such passion and respect for our House of Delegates! It truly is a representation of our membership. And it is also a platform that a member driven organization such as ours should continue to elevate. We had a very hot button issue this year, a Call to Action regarding the Affordable Care Act (ACA) was requested under New Business. There was no precedent for this, as it has never happened in the House before. There was a lot of very heated discussion in the Delegate Forum, and among the Chapter Presidents, prior to convention and the appropriateness of this 'Call to Action'. Many of us who have been around for a few years, felt that somehow the wisdom of the House would prevail. And it did!
A motion was made to add a 20 minute discussion of this important topic, under New Business, and that the discussion focus on preparing questions for the [Convention's] Closing Panel, which was to be on the ACA. Not only was this a graceful and functional compromise, but it has also spurred some conversation about Topical Discussion as a permanent feature to the House Agenda each year. The debate on the 3 Position Statements was very intelligent and thoughtful and perhaps even changed a few minds, mine included. I am also very full of gratitude that I was re-elected to the HODOC and I look forward to serving you all on this fascinating committee."
Kate Peck, returning delegate for the second year of her two year term, noted how much more comfortable it was attending the HOD the second time around. "Last year, everything was so new. It was my first time attending a National Convention and attending the House of Delegates meeting with all of its formality and structure. It was helpful being familiar with it all and it was easier getting up and speaking and contributing to the debate. I was disappointed that the Position Statement on Cancer was defeated, not based on a lack of research that shows massage can improve health related quality of life for cancer patients, but because delegates felt that not every massage therapist has the training to work safely with cancer patients and that needs to be conveyed to the public. It will be interesting to see how this issue get resolved."
From first time delegate Gail Dobinski, "I found the HOD experience enlightening, inspirational and marveled at the level of passion and preparedness of the delegates. it was interesting to witness the governmental process and consider additional input on the Position Statements from other state delegates. It is nice to see the other side of our profession, what actually is behind the integrity of the molding and shaping of who we are as therapists. Also, it was a great way to network and connect with therapists across the United States...Awesome!"
First time delegate Regine Ryder said, "As members of the MA chapter, many of you have participated in NERC, our regional conference, where you have the possibility to learn new techniques and connect with MTs from other states. The National Convention is a chance to experience this with members from 50 States! I was excited to also participate in the House of Delegates and represent our chapter. It showed me how important it is to come to the HOD well prepared as during the amazingly monitored discussions, each delegate who wants to speak, has only two minutes to present pros or cons to a proposed Position Statement. In reviewing the proposed statements in preparation for the HOD, I was able to learn to look into the presented research and in this way actively take part in the discussions at the HOD. The learning experience included my own review of the research as well as listening and validating the interpretations of other delegates. I found this to be a challenge and an opportunity to grow professionally and personally."
We look forward to even more progress in next year's House of Delegates!