Liability Insurance
AMTA has broad liability insurance, so you can practice confidently knowing that we've got you covered.
Top-notch Education
AMTA's rigorously vetted Continuing Education makes it easy to update your skills and earn CE hours for state licenses—both on-site and online. Browse online courses too.

Career Guidance
Better market your practice or school, or take that next step in your career. Find detailed career guides, tips on job searching and downloadable marketing tools. You can even search for jobs, post open positions and post your resume for potential employers to see.
Networking & Community
Expand your community through your local chapter membership, the AMTA National Convention, our mentoring program and more. AMTA makes it easy to connect with fellow therapists and clients.
Discounts
From massage supplies to Rx prescription services, AMTA offers you more for less. Feel prepared and ready to take the next step in your practice. Discounts are offered for massage supplies providers, websites, scheduling systems, marketing tools, office and printing services, office management, tax filing, PPE, prescriptions, and more!

Publications
Stay engaged with timely massage therapy news and updates through our award-winning publications and related news stories. This includes the The Massage Therapy Journal (AMTA's award-winning publication), AMTA News (AMTA National News and Information), and AMTA-MA Chapter News and Blog. Knowing more about current research can boost your practice.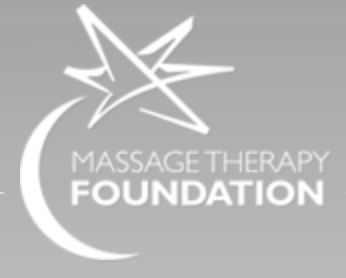 The Massage Therapy Foundation advances the knowledge and practice of massage therapy by supporting scientific research, education and community service. We believe in massage therapy and bodywork. We are therapists, educators, members of professional organizations, vendors who sell supplies and massage and bodywork clients. We support the Massage Therapy Foundation with our hearts and dollars, donating to promote the knowledge and understanding of massage. The Massage Therapy Foundation, a 501(c) (3) public charity, advances the profession through community service projects, research, and education. Get involved. Please join us in supporting the work of the Massage Therapy Foundation. Together, we can build a brighter future for massage therapy
The online community of massage therapists and health professionals is vibrant and strong. Below you'll find a list of websites with an array of information about massage techniques, business skills and everything massage and self-care related. The International Journal of Therapeutic Massage & Bodywork is the Official Journal of the Massage Therapy Foundation. It is an open access, peer-reviewed publication intended to accommodate the diverse needs of the rapidly-expanding therapeutic massage and bodywork community. Principal sections of the journal span the areas of research, education, and clinical practice.
Balance In Me
Audios to keep balance in your life.
Learn Muscles
Joe Muscolino's FREE Library contains about 500 high resolution anatomy and manual therapy artwork figures. This content is free to use for anyone or any school or organization for personal, educational, or professional use. Please read and adhere to the Important Copyright Information on the Anatomy Encyclopedia home page.
***
COMTA
The Commission on Massage Therapy Accreditation (COMTA) accredits both educational institutions and programs offering instruction in massage therapy and bodywork or esthetics and skin care. We were formed with the mission of establishing and maintaining the quality and integrity of our professions. With COMTA accreditation, you can be sure that the standards you're meeting reflect the national needs of the profession. Since 2002, COMTA has been recognized by the U.S. Department of Education as a specialized accrediting agency.