During our 2016 Annual Chapter Meeting in April, held during our IDEA Conference weekend, we announced the winners of AMTA-MA Chapter Awards. The awards included the President's Award, Volunteer of the Year Award, Distinguished Service Award and Meritorious Award. Meritorious is defined as deserving reward or praise. Synonyms include praiseworthy, laudable, commendable, admirable, credible, worthy deserving...ok, you get the point! Our 2016 Meritorious Award winner is Deb Baker! She's all of those things and so much more! We wanted her to share what it was like receiving the award.
Proud Sponsor of the 2016 Chapter Meritorious Award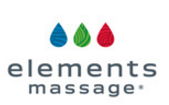 A special thanks to Elements Massage. Due to their support and generosity, we are able to send Deb to the AMTA National Convention where she will be in the running for the National Meritorious Award!
"I was totally stunned to hear my name when the Meritorious Award was announced. The morning of the annual chapter meeting started off at a fast pace; registration needed to get set up, final details needed to be ironed out, and questions from attendees answered. It had snowed that morning and I was figuring out our cancellations for the day of ethics and the annual chapter meeting. With all these thoughts swirling through my head, I heard my name called for the award.
I have been the Director of Practitioner Development and Education for the past few years for the ATMA-MA Chapter. Organizing educational events for the chapter is the primary focus of my position. The entire leadership team is responsible for putting together IDEA 2016. There are so many details to attend to in addition to the classes, and all of our volunteers were hard at work by October 2015. The phrase "it takes a village" truly applies to the implementation of IDEA 2016. I am very fortunate to be a part of such a great village. The AMTA-MA Chapter is an exceptional chapter, and I am very proud to be a part of this organization. Thank you for this award. It means a great deal to me to be recognized by the chapter."