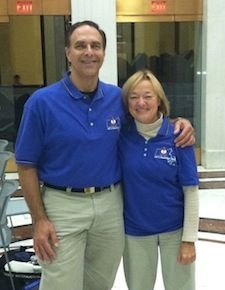 Feeling is Believing
We know that massage is awesome. We know it can shut down a racing brain, relieve an aching shoulder, soothe the cry of a baby. But not everyone knows what we know. The best way to teach the power of massage is by massaging. And the best way to understand the power of touch? You guessed it, by getting a massage.
Expressing gratitude matters
The MA State senators and representatives have shown they understand how important it is that Massage Therapists be licensed and respected as wellness professionals.
But it's not just about us, the licensed professionals. In 2011 the legislature also passed a comprehensive human trafficking law. we're proud to have been a part of that effort, and providing massage for a day is a great way to thank the legislature for their work.
Visibility is key
Your local legislator may not know any massage therapists personally. She may understand the trials and tribulations of owning a small business, but not the intricacies of a massage practice. Enjoying a massage at work, meeting therapists will only encourage more interaction, and more education on the part of our legislators.
You know how we drive by a sign a hundred times before we really see it? I bet a whole bunch of legislators will notice a whole bunch of local massage businesses on the way home from work on October 24.
The AMTA-MA Chapter polo shirt
It's blue. It's sassy. And it'll be all yours. (See it modeled by our 2011 volunteers Patricia Wachter and Alan Jackson above.)
Ready to join us at Legislative Awareness Day?
Bonus reason: Attendees will receive mileage and parking reimbursements. Also, extreme amounts of fun will be had.