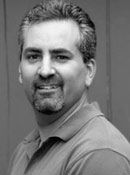 I had a chance to talk with Jeff Mahadeen recently about his upcoming February 10 class for the AMTA-MA Chapter. I was quickly convinced that this class is one of the most important that a massage therapist can take. Torticollis, whiplash trauma and headache issues are high on the list most common complaints from massage clients. Being really good at neck work is one of the most marketable skills you can acquire. When you can effectively treat pain from whiplash and similar traumas, word gets around, and referrals from chiros and PTs will follow. I think there are many reasons MT's should rush to register for this class, but here are my top 7.
1. Jeff covers the anatomy and function of the cervical spine in detail, going well beyond just reviewing what you learned in massage school.
2. You'll get a holistic view of the body in relation to cervical dysfunction.
3. The class mixes lecture, slides, movement exercises and hands on practice. There's something for every learning style here!
4. Jeff has an active practice, seeing a full schedule of clients weekly. He understands how to convey the practical application of every technique he teaches.
5. The handout includes a written protocol, with space for your own notes, too.
6. Jeff demonstrates every sequence, then talks the group through the sequence for practice, (once for each partner) and leaves time for freestyle practice.
7. 80% of massage therapists who attend a class with Jeff at The Muscular Wellness Institute go back for more classes with him. He's that good.
Bonus reason
You'll get a free lunch, time to mingle with your colleagues, and all the news from the Massachusetts massage world at the chapter meeting. All for only $50 for AMTA-MA Chapter members, $100 for non-members
Hope we see you for the February 10 class in Natick, Myofascial Mobilization and Treatment of the Cervical Spine with Jeff Mahadeen.