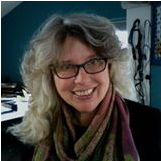 Why should you take Ruther Werner's Research Class and/or her Ethics Class at IDEA 2015? Read on to find out and be on the lookout for more of our Bright IDEAs blog series as we provide insight and insider information on our IDEA 2015 Conference educators right up to May 1!
Q. Would you describe the route of your teaching career? How did you get to where you are now?
A. I started teaching while I was still a student. We had some people join the class a few weeks late and my teacher noticed I was having an easy time with the science (a big surprise to this theatre major!), so he asked me to tutor them to help them catch up. It went on from there; eventually I became a teacher at that school, where all the teachers were required to be able to teach everything—A&P, pathology, technique, even the cadaver classes. It was a great, well-rounded introduction to the field, but I will never, ever teach another hydrotherapy class again—I just am not that interested. :-)
When I started writing, I essentially wrote the book that I wished I had had while I was in school. People often say they can hear my voice when they read it. It is essentially "teaching", but on paper.
I have always loved teaching. I love that I seem to be able to anticipate where people get stuck in learning new things, and I am usually able to guide them through it. I love feeling extremely well prepared and ready for anything. But as I have matured in this profession, some things have changed. My teaching now is always an adventure—I'm much more willing to try new things and undertake topics I haven't done before, because I have confidence in both my own preparation, and in the idea that participants will be able to take what I offer them, and turn it into whatever it is that they need.
Ruth Werner has a message for you!


Bio:
Ruth Werner is a well-known figure in the massage therapy world. She has been teaching since 1984 at schools, on the internet, and in hosting workshops. Ruth has authored two books: A Massage Therapist's Guide to Pathology (5 editions) and Disease Handbook for Massage Therapists. You can find over 90 articles on her website in addition to an upcoming blog, Blog of the Path Queen. Ruth has served our community by presiding over the Massage Therapy Foundation and contributing through different Board Committees. In all of her spare time she creates fabulous quilts! Visit her website www.ruthwerner.com and you will be delighted!