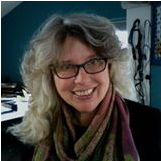 Who's your hero? Ruth Werner tells us who her heroes are and why. Read on to find out and be on the lookout for more of our Bright IDEAs blog series as we provide insight and insider information on our IDEA 2015 Conference educators right up to May 1!
Q. What or who inspired you to teach? Do you have a massage hero? This may include someone who inspired you, instructed you, or perhaps even a recipient who may have taught you through "experiential education".
A. I have always felt that I couldn't learn any topic without teaching it to someone else. That is why my teaching career has always focused on the topics that really intrigued me: pathology, pharmacology, ethics in the context of people who are struggling with health, and research. Especially at this phase of my career, you will never find me teaching something that doesn't absolutely fascinate me.
I have so many heroes in this field—people who have inspired me to try harder, to reach further, to remember that the student is the most important person in the room, and to trust the process. Tracy Walton, Whitney Lowe, all the people at the Massage Therapy Foundation—these are my inspirations, and I meet more every day.
Ruth Werner has a message for you!


Bio:
Ruth Werner is a well-known figure in the massage therapy world. She has been teaching since 1984 at schools, on the internet, and in hosting workshops. Ruth has authored two books: A Massage Therapist's Guide to Pathology (5 editions) and Disease Handbook for Massage Therapists. You can find over 90 articles on her website in addition to an upcoming blog, Blog of the Path Queen. Ruth has served our community by presiding over the Massage Therapy Foundation and contributing through different Board Committees. In all of her spare time she creates fabulous quilts! Visit her website www.ruthwerner.com and you will be delighted!