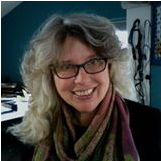 Why should you take Ruther Werner's Research Class and/or her Ethics Class at IDEA 2015? Read on to find out and be on the lookout for more of our Bright IDEAs blog series as we provide insight and insider information on our IDEA 2015 Conference educators right up to May 1!
Q. Why does continuing education matter to the massage therapy profession?
A. Commitment to lifelong learning is the mark of a professional. Would you want to get a massage from someone who doesn't bother to invest in expanding her horizons? Sure, you can get by in the massage field without continuing education—if you're content to do the same thing every day, or if you love reinventing the wheel each time you have a new challenge, or if you're not curious about ANYTHING. But that is not the behavior of a health care professional. A professional in any field looks for ways to grow and stay vital for a lasting career. AMTA-sponsored educational opportunities like this one provide your access to affordable, in-person informative experiences that allow you to connect with your colleagues and communicate with leaders in your field. These meetings are opportunities that no one dedicated to their field would miss.
Ruth Werner has a message for you!


Bio:
Ruth Werner is a well-known figure in the massage therapy world. She has been teaching since 1984 at schools, on the internet, and in hosting workshops. Ruth has authored two books: A Massage Therapist's Guide to Pathology (5 editions) and Disease Handbook for Massage Therapists. You can find over 90 articles on her website in addition to an upcoming blog, Blog of the Path Queen. Ruth has served our community by presiding over the Massage Therapy Foundation and contributing through different Board Committees. In all of her spare time she creates fabulous quilts! Visit her website www.ruthwerner.com and you will be delighted!