On March 20, 2018, our very own 2010 Chapter Humanitarian Award winner was the honored recipient of the Victory Programs 2018 Manny Jefferson Gratitude Award. John Vines has been a member of the AMTA since 1994 and is a volunteer massage therapist with the Boston Living Center. He was recently honored at their Gratitude Dinner event where fellow Chapter volunteers Christine Rose, Debbie Varrs, and Alan Jacobson joined in the celebration. They all agreed that it was a wonderful event and they were honored to be there to celebrate John's work at the center. Alan Jacobson commented that, "John represented himself and every massage therapist who has ever given back to society very well. I was very proud to be a part of the event."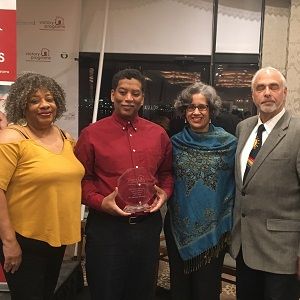 John is looking to recruit more volunteers to help. He is currently the only volunteer. Can you believe that? Have you been searching for an rewarding experience? Would you like to give back?
Click here to find out how you can volunteer with the Boston Living Center.
Written by Kristen Lutz
Communications Program Chair