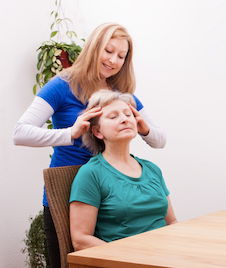 The field of massage therapy has a spectrum that spans from the medical to the mystical. We go from quantifiable techniques like Myofascial Release to some that we may never be able to physically measure, like that of a good old-fashioned relaxation massage. No matter where we fall in that spectrum there has been a struggle in the past for us to be recognized by the medical community proper.
It has been a slow, arduous process for our healing, restorative and preventative skills to be recognized. It makes sense, though: many medical practitioners went to school for ten years; we went to school for 650 to 1200 hours (and let's not forget those CE Hours, people). Not to leave out chiropractors, osteopaths and some physical therapists that we're down with, but what about the rest of the field? When will they accept what we have to offer as valid?
Community Nurse & Hospice Care (CNHC) a forward-thinking, not-for-profit visiting nurse agency sees massage as valid and is now implementing it into the large array of services they already offer. They are based in Fairhaven, MA, and service southeastern Massachusetts; from the west in Swansea all the way east to Bourne; from points as far south as Westport and Dartmouth all the way north to Middleboro; and all the towns in between.
CNPC started in 1916 as a maternal/child healthcare service, where the nurses rode bicycles to homes to provide care to expectant and new mothers as well as care for newborn children. Of course they have come a long way since then, two years shy of their 100th anniversary. Community Nurse & Hospice Care visits homes and offers virtually all aspects of caring for the sick and aged. Their services range from specialties like nursing and alzheimer's care all the way across their spectrum to housekeeping, nutrition, transportation/ errands, physical and occupational therapy.
I interviewed Cristal Medeiros, a practicing LMT and community Liaison at Community Nurse, to find out what inspired a not-for-profit visiting nurse agency to include massage therapy as one of their services. The idea came from the company's President and CEO, Jane Stankewicz, a woman who has lead CNHC to the top twenty percent of home care agencies in the country. I was told that she receives massage on a regular basis and that she has a full appreciation for what we can do as healers.
For their company to offer massage was a simple synthesis of that appreciation and CNHC's secret to success. They have excelled by staying in tune with their patient's needs- always asking "How can we, as a company, view our patients as number one?" When Ms. Stankewicz asked Ms. Medeiros if she would not only head the efforts implement massage into their curriculum, but also to be one of the practicing massage therapists, she accepted the offer because she believes that "if the investment is in wellness then it needs to be as comprehensive as possible."
Nurses, like massage therapists, come from varied backgrounds. What we share, hopefully, is the desire to facilitate healing through our work. Like Ms. Medeiros, there are other professionals within CNPC who are also practicing LMTs, like an occupational therapist and an RN.
As the need for massage grows within CPNC, licensed massage therapists will be encouraged to apply. On the other side of that coin, if you are interested in professional massage therapy in the comfort of your home or have a loved one in need of the wide range of home care services offered by Community Nurse, you can contact them at: (508) 992-6278. For more information or a complete list of their services, you visit them online at www.communitynurse.com.
And this article is a call to action. Ms. Medeiros wanted me to remind readers that the State Chapter budgets were recently cut as a result of the optional chapter fees upon renewal of your AMTA membership. While cost is a factor in AMTA membership, it is not the only factor. In addition to the many benefits offered by the AMTA, we also benefit from an active state chapter. Ms. Medeiros found out just how beneficial the AMTA-MA Chapter is when she was developing the CNPC massage program. What she needed was good data on the industry from a local perspective. And our state chapter was able to assist her in this. This year when you renew your AMTA membership, please consider donating to the AMTA-MA Chapter.
John Hughes is a licensed massage therapist on Cape Cod. He resides in Mashpee with his wife and three boys. In his spare time, he volunteers for AMTA and operates a property maintenance company.