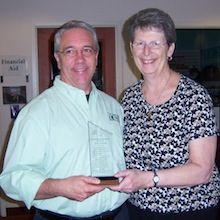 Ed Connor received the 2012 Humanitarian Award from the Massachusetts Chapter, what follows is the introduction given by Sr. Pat Dowler, Awards Chair, at the 2012 Mass Chapter Annual Meeting.
Ed is the epitome of what AMTA stands for. According to his business's web site, "Ed approaches every massage with kindness, pure intention, compassion and a peaceful demeanor. His motto is to comfort those in need through the art and science of human touch. Every session is tailored to the needs of the client at that time, and combines several different methods of touch to provide a truly beneficial massage each time."
However, one of Ed's goals is to actively support the community by lending his skill and giving his heart to a variety of causes. Among those causes: volunteering with Hospice patients and their families, Relay for Life, the Vets Connection (serving those who have served via military deployment) and coordinating massage teams for Extreme Makeover: Home Edition (2011 in Springfield, MA. And 2009 in Suffield, CT).
In 2012 Ed continues his support of events in his community by providing massage therapy for many worthy causes including the Ride 2 Recovery which holds cycling events around the country to benefit physical and mental rehabilitation programs that are for U.S. wounded veterans that feature cycling as the core activity. He's also active in providine massage for Homes For Troops and Habitat For Humanity.
Ed will spearhead the massage therapy services for all of these 3 events this year for the Mass Chapter insuring there are enough volunteers for all events. He will coordinate with the event planners and will work tirelessly to insure each event runs seamless as all his previous community events have run.
Ed's volunteerism, especially with the 2011 Extreme Makeover: Home Edition qualifies him for our Mass Chapter Humanitarian Award and hopefully the National Humanitarian. The Extreme Makeover: Home Edition provides needy families a new home. In the Springfield, MA. Show, the family who had lost a son due to bullying (he committed suicide in their near-condemned home) were the recipients. Ed organized the Massage team of more than 55 Massage Therapists who covered the site from Tuesday evening through Sunday afternoon with no gaps…there was never a time the massage tent went without therapists. Whenever there was a question about coverage….Ed was there.
The production crew for the show was absolutely amazed at the level of commitment the therapists provided. Even Tony, who had been with the show for several years, could not remember when they had such an outpouring of support in the massage therapy area…..many of the production, construction, building crew mentioned how grateful for the Massage Crew and many declared they would not have been able to finish the job without the massage therapists. As a testimonial, Matt Swanson who worked for the show stated: "I work for Extreme Makeover Home Edition. Ed created the best massage program I've been able to work with. He's highly organized, prompts, and very interested in serving each client. On top of that, Ed hits a home run with his massage! He has clearly invested great efforts into massage education and training. Ultimately I wish I was local so I could utilize Ed's services regularly. Thanks, Ed."
Ed claimed that, " It was an honor to be a part of such a wonderful outpouring of service." But, Ed, it was an honor to have worked with you and call you our own." We had the opportunity to massage a group of volunteers who gave from their hearts because of you, Ed.
-Sr. Pat Dowler