Denver, Colorado—Sept. 17-20 | Featuring Keynote Speaker Dr. OZ
The AMTA 2014 National Convention gives you the tools you need to thrive, including over 35 rigorous continuing education classes, valuable networking opportunities and products to advance your practice.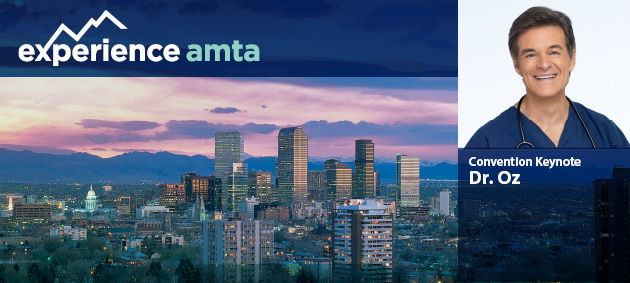 National Convention boast special events for teachers, students, and first time attendees, along with four days of continuing education options, all NCBTMB-approved, (and an outing to Coors Field to watch the Colorado Rockies take on the Arizona Diamondbacks)
Join the AMTA-MA Chapter leadership and massage therapists from across the country at this premier event.
Be inspired. Start convention with keynote speaker Dr. Mehmet Oz, Daytime Emmy® Award-winning host of The Dr. Oz Show!
Broaden your horizons. Expand your skill set and learn new ways to serve your clients with rigorously vetted education.
Stay on top of trends. Try new products and stock your practice with essentials in the Exhibit Hall.
Early Registration ends July 18, 2014. Register now!