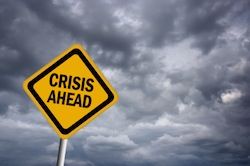 At about this time every year there are a number of things that, as a business owner, I need to take care of. Renewing licenses, permits, and various contracts are part of that list. I also need to sign off on the insurance policy for my massage equipment and other contents of my office space. If you have a designated space that you rent and/or work out of, you should have everything covered by insurance; it's a no brainer.
Often times we take things for advantage just because they have always been there; like electricity and running water. You know how you lose power but still keep flipping the switch when you walk into a dark room, even when you know the power is out? Yeah, like that. Sit down in your work space and take a moment to process all that fills it, from the table, to the music source, to you anatomy coloring book, to whatever; it is all there for a reason, you need and use it. Now take all of it away and imagine trying to earn a living. Not so easy, right? Now consider what it would actually cost to replace all of those items and you begin to understand why insurance is a good idea.
So what could possibly happen that would force you to have to start over from scratch? Suppose a pipe bursts after a cold snap, flooding your office. Messy and nasty, but you might be able to salvage some items. A fire from a space heater could also cause havoc, consuming everything in its path. Even simple theft or vandalism could make your work life miserable if that fancy laptop or music player is no longer there for you. The fact of the matter is that there are too many unexpected tragedies for you to avoid them all, for your entire career; some things are beyond your control.
Personally, I have experience with a house fire that took close to everything I owned. I had to literally sift through the wreckage in order to inventory all that was lost. It was quite a sobering experience to try and put a value on everything inside the house I once called a home. While it would have been easier to do before hand, it just wasn't something I ever envisioned happening to me. Fortunately, I am rather meticulous when it comes to keeping receipts and documentation and it was spared in some fire-rated filing cabinets. Still, an inventory had to be made for submission with the insurance claim.
Now that you know an inventory is vital to keeping track of everything in your practice, here are a few simple, helpful hints on how to best organize or catalog the inventory. Start with a spreadsheet format, either on paper or electronic. List the item, the model and serial number, (where applicable) the purchase price, and the current market value. The more detailed the information, the easier it will be if and when you need to file a claim. You can supplement with photos and video, digital or other, because you know a picture can often speak a thousand words. Sometimes the best way is to have a friend go through each room a take a visual inventory and transcribe what you see as you see it. If you do a lot of shopping online, chances are that the online store has a record of all of your past purchases, which could prove quite useful for compiling your inventory. There are also websites that can offer other suggestions for compiling a catalog of what you have; there's a great resource here.
What about the stuff that has value to you, but cannot be purchased in a store? A good example would be the "good will" that I paid for when I purchased my business; the client list. Yes, those filing cabinets full of client files that make money for my business cannot easily be replaced. The best you can do is use "fireproof" cabinets for all things paper. Contracts, leases, and other legal papers should always have copies at a secondary location, just in case. The scheduling software I use in my practice is backed up weekly to a digital memory stick. It contains more than a decade of basic client data, but not beyond their contact information and list of past and or scheduled appointments. The session notes are all still hand written, kept in file folders. Perhaps it would be prudent to keep all of that in a digital format, but I'm not ready for that, as I doubt many other massage therapists are. Still, many financial records are kept digitally. To have as much information kept in a remote location, like in a cloud based data storage or portable hard drive could be invaluable should a tragedy occur. Finally, it goes without saying that cash, checks, and the like should be deposited at least weekly to minimize loss.
With all of the aforementioned advice, the final order of business would be to procure some piece of mind; buying an insurance policy. (But you don't need to wait until you inventory everything to get the ball rolling. Do it now!) Oddly enough, after more than ten years of holding the same policy with the same provider for their equipment insurance program, I was informed that they policy does not cover anything that I have been submitting on my inventory for all of these years. Regardless of what changed, I needed to find another policy with another carrier. Luckily, I need not have looked any further than my AMTA membership and their benefit program. You can check out the information here, but I can tell you that it's easy, it's affordable, and you should do it.
The funny thing is that their policy is less than half the price of the policy I had been using for more than a decade. While I'm sure that there are other options out there, the coverage and cost made it a simple choice. Just like when the power goes out, you need to make the best of a bad situation. I know having insurance to replace equipment and items you need to earn a living can really make all the difference in a worst case scenario; I'm speaking from experience.
Jason Peringer combines a degree in Sports Medicine and a background in strength and conditioning with advanced training in Sports Massage, Reflexology, and Shiatsu to provide the best massage you can find on Martha's Vineyard. He is a long-time AMTA member, the owner of the Center for Therapeutic Massage and THE go-to therapist for both residents and seasonal visitors to the island. He coaches high school track, makes a mean pancake, and rules twitter as @mvmassage.