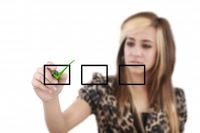 AMTA members are pretty diverse. We work in spas, hospitals, and private practices. We practice Rolfing, shiatsu, and Thai yoga massage. We are age 18, and age 81. But there's one thing all of us have in common: we care about the massage therapy community and have opinions about its future.
The American Massage Therapy Association is different from any other professional association for massage therapists in that it is a nonprofit organization run by volunteers who are elected directly by the membership. This means that every single member can affect the future of massage therapy through the simple act of voting. It's a powerful right, and an important responsibility.
Want to make sure AMTA is focused on making sure the Affordable Care Act helps your practice, rather than hindering it? Vote.

Want more extensive support for students and new massage therapists? Vote.

Unhappy with the current licensing standards in your state, and wish there were more resources to help you get them changed? Vote.

Think the AMTA logo should be changed to a photo of a golden retriever puppy drooling blissfully on a massage table? Okay, it's not exactly the most common request. But it still can't hurt to vote!

AMTA elections are not your average voting experience.
So what's the next step?
Step 1: Educate yourself. Check out the candidates. Ask questions. Who are the leaders you want driving our profession forward over the next year or more?
Step 2: Vote. A link to your electronic ballot arrived in your email inbox November 1. Voting ends December 1, so don't put it off until the last minute!
Step 3: Keep your eyes open. The newly-elected officers will be announced by January 1 on the AMTA website.
Step 4: Keep in touch. Your new officers assume their offices on March 1. Since you voted them in, it's important that they know what your needs and dreams are as an AMTA member. Speak up, stay engaged, and make a difference!
But before that, here's something more. A Step Zero, maybe.
Talk with your fellow AMTA members about what you look for in a candidate. Encourage them to vote. Share these links. The more conversations we start, the more informed we'll be, and the better AMTA will truly represent the needs of all our members. Building up our profession takes each one of us taking small actions like this, which add up to something big. So let's get talking and get out the vote! Because the massage therapy community deserves committed, interested people like you. And you deserve the best possible AMTA.
Kat Mayerovitch is an AMTA Texas Chapter Member who was bit by the writing bug in 2nd grade and never recovered. She writes for massage students and new grads at www.LMTorBust.com, and frequently blogs for us here at the AMTA-MA Chapter
Image courtesy of David Castillo Dominici/ FreeDigitalPhotos.net