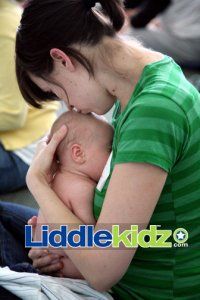 In 2011, the Massage Therapy Foundation awarded a $5000 grant to the Liddle Kidz Foundation. The grant was sponsored in part by a gift from the AMTA Massachusetts Chapter.
It is the vision of the Liddle Kidz Foundation Global to make a true difference for infants and children who have been orphaned and abandoned. They achieve this goal by incorporating sustainable and replicable programs into orphanages and residential care settings around the globe.
The video below is a beautiful documentary featuring the work of Tina Allen and the Liddle Kidz Foundation in Japan. Make the time to watch this video, you will walk away feeling proud of our profession and inspired by our potential when we work together to support these kinds of projects.
After more than a decade of bringing healing touch to needy infants and children in the United States, Canada, Thailand, and Vietnam, Liddle Kidz Foundation founder Tina Allen has reached out to orphaned and abandoned children in Japan. Allen created a culturally specific infant and pediatric massage therapy program in Japanese for massage therapist participants in the greater Tokyo area. A select group of 16 volunteer pediatric massage therapists were educated by Allen over two consecutive weeks (10 onsite days) at no charge, due to their commitment to volunteer their services. The team members worked individually with infants and children providing customized hands-on massage therapy and nurturing touch; orphanage caregivers were invited to observe these customized treatments so they can continue with the care when team members aren't available. In particular, techniques were taught to help support children suffering the effects of posttraumatic stress disorder. Since Allen returned to the United States, the massage therapist volunteers have been able to continue their service under the coordination of the Japanese Association of Baby and Childcare, with Allen's ongoing guidance and evaluation.
In addition to the educational component of this amazing journey to Japan, Tina Allen, along with a select group of Japanese Nationals who received specialized training in Pediatric Massage by the Liddle Kidz Foundation, volunteered as part of an outreach working with those affected by the most powerful known earthquake ever to have hit Japan, and one of the five most powerful earthquakes in the world since modern record-keeping began in 1900.
Allen says, "Children are our greatest gift and should be treated with extraordinary care. With nurturing and compassion, children have the opportunity to reach their full potential."
At the AMTA Massachusetts Chapter, we could not agree more. It is an honor to know that our regular donations assisted this project. What's even better is knowing that YOU can help fund projects like these, too. You can make a donation directly to the Massage Therapy Foundation here.