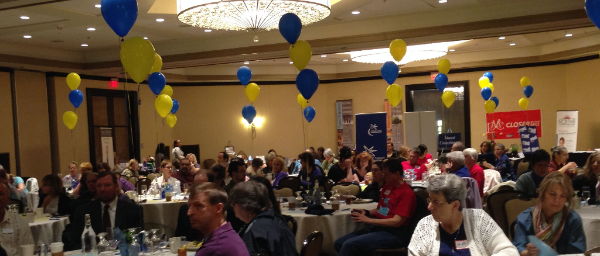 The weekend of May 3-4 over 150 massage therapists gathered in Needham for education, networking and to hear all the massage news of Massachusetts.
On Saturday, Laura Allen taught One Year to a Successful Massage Therapy Practice to an attentive class, and included a special component on Using Research to Market Your Massage Therapy Practice. Meanwhile, another group of dedicated massage therapists was earning their CPR/AED certifications and taking the Being Red Cross Ready class. At the end of the day members, presenters, and leadership gathered for a reception to mingle and share the events of the day.
Sunday morning started with a full exhibit hall including sold-out complimentary coaching sessions for attendees and $10 professional headshots. After a great lunch, President Mary White began the Annual Business Meeting by introducing the leadership present: 1st Vice President Lisa Curran Parenteau, 2nd Vice President Kelly Dalbec, 3rd Vice President Gail Dobinski, Treasurer Farris Ajalat, Secretary Patty Jaworski and Immediate Past President and former National Board AMTA Member at Large Richard Wedegartner.
Mary also introduced guests National AMTA President Elect Jeff Smoot, NCBTMB Chair Leena Guptha, and presenter Laura Allen, MA Massage Therapy Board member Matthew Olds, as well as the chapter support staff, Lobbyists Mark Malloy and Kim Sullivan from Lynch Associates, Attorney Scott Dunlap and Online Marketing Manager Allissa Haines.
After roll call and the approval of the agenda, Membership Chair Kelly Dalbec announced the Dianne Polseno Student Scholarship Award winners. Catherine Thibault won $1,000 to start her massage career and an AMTA graduate membership, donated by Massage Envy.
Virginia Vickers won $750 and an AMTA graduate membership, donated by MA Chapter. Kelly thanked Massage Envy for their support and Charles Gaudette spoke about how the Dianne Polseno Scholarship began and how the MA Chapter will continue to honor Dianne's memory with the scholarship each year.
In her President's Address Mary White spoke about working at the Boston Marathon and what an especially great experience it was this year. She gave credit to the hundreds of massage therapists who volunteer their time each year on and around Marathon Day.
The Massage Therapy Foundation boasted 6 runners on the Running for Research team wearing shirts with the Massage Therapy Foundation on the front and AMTA on the back. To date the team had raised $60,510 for the MTF. Mary introduced runner and AMTA-MA Chapter member Kristen Lutz who raised $26,700 by herself. Mary presented Kristen with a framed poster signed by this year's winner of the Boston Marathon, Meb Keflezighi (who was pleased to tell Mary how much he loves massage as he signed the poster.)
Mary gave thanks to Attorney Scott Dunlap noting what a great benefit this has been for the members. She mentioned how our relationship with Massachusetts Business Association helps to offer more affordable healthcare options for our members. Special thanks was given for Attorney Dunlap's pro bono work in a recent zoning issue with the town of Stoughton. (Details on that situation coming in a separate article soon.)
Mary thanked Lynch Associates and the great work they do for us as or Chapter lobbyists. She spoke about how great the education has been this past year. We plan to continue working on our education program and how it will be adapted to meet Massachusetts CE regulations which will be rolling out this year.
In light of the dues structure changes that no longer require a chapter fee to be paid when joining or renewing a membership, Mary asked that members continue to contribute $30 (or more!) directly to the chapter. You can do that here at any time.
National AMTA President Elect Jeff Smoot thanked Mary White for inviting him to speak and shared that the National Board of Directors knows how hard the chapters work and that the National Board is there to support the chapters. He encouraged all members to support the chapter with donations.
Jeff also spoke about the loss of two special members of AMTA recently: Bill Greenberg of CT Chapter and Dan Barrow of NM Chapter. Jeff noted that National AMTA is working to help all massage therapists by building better relationships with other professions and Alaska will be the 45th state to regulate massage.
Treasurer Farris Ajalat presented the annual budget and reviewed the balance sheet as of 2/28/14. He reviewed the proposed and revised 2014-2015 and explained some of the changes. Motion to accept budget as presented made and seconded and the budget was unanimously approved after a bit of informative discussion.
Committee chairs and various volunteers were introduced. Education Chair Deb Baker and committee members Regine Ryder, Merrill Pregeant, and Kate Peck were introduced. Community Service Massage Team Chair Gordon Pillote and committee members Cynthia Sykes and Sharon Sharpe were introduced. (The three were slightly sleepy as they had participated in a simulated disaster at Logan Airport at 4:00 AM that morning, playing the role of survivors on a barge for Operation Ready.)
Membership Chair Kelly Dalbec and committee members Greg Hurd, Deb Nugnes were introduced as well as Marketing and Communication Chair Lisa Curran Parenteau and volunteers Noreen Chase and John Hughes and Scholarship committee Kelly Dalbec and Charles Gaudette. Also introduced were Law & Legislation committee members Deb Nugnes and Richard Wedegartner, Awards Chair Sr. Patricia Dowler, and New England Regional Conference Planning Committee member Jessica Meltzer.
Awards were presented by Sr. Pat Dowler who gave the Chapter Meritorious Award to Deb Nunges and the Chapter Humanitarian Award to Cynthia Sykes. Mary White presented the President's Award to Farris Ajalat.
NCBTMB Chair Leena Guptha spoke about Board Certification and explained the requirements. Those already certified can transition from National Certification to board certification by meeting the requirements. The requirements are the same for those not Nationally Certified but must also take the exam. Board Certification is a higher voluntary credential.
Lobbyist Mark Malloy outlined a variety of initiatives he's worked on over the past year, and noted that constant vigilance is necessary as "There is always someone trying to take away what we have and not allow us anything else." He encouraged all to participate in the next Day on the Hill, October 16, 2014, when chapter volunteers provide massage for legislators and staff at the Statehouse.
Attorney Scott Dunlap shared that he has worked with over 100 chapter members, usually answering short questions, and praised how the legal benefit has evolved under Mary White's four years as chapter president.
Commissioner on Candidacy Deb Nugnes reported the candidates who were certified as eligible to run for office, each ran unopposed. Election results are as follows, all two year terms except where noted.
Lisa Curran Parenteau, Chapter President
Kelly Dalbec (incumbent), Chapter 2nd Vice President
Patty Jaworski (incumbent), Secretary
Kate Peck (incumbent), Delegate
Cynthia Sykes, Delegate
Kelly Dalbec, Alternate Delegate (one year term)
Installation of new board and delegate positions was performed by Mary White.
Incoming President Lisa Curran-Parenteau spoke about our mission statement and how we work to inspire, educate, empower and advocate for all massage therapists. Lisa encouraged all to consider their own skills and how they could become involved with the chapter and closed with thanks to vendors and a personal thanks to each of the Board of Directors.
clientuploads/thrivephoto.JPG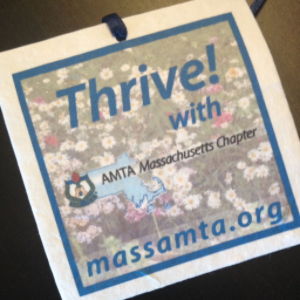 Juan from TD Bank told attendee about the affinity program. If any member has a TD Bank account they will give AMTA $10 per year, and a percentage of the balance of savings and CDs. If someone opens a new account, TD will give $50 (person opening gets $25). They can also add accounts of anyone that supports AMTA, not just the members. (More details coming soon on this program.)
The meeting was adjourned at 2:46pm as the room was being set for Laura Allen's ethics course, The Educated Heart: Ethics Roles and Boundaries for Massage Therapists.
Attendees went home with very full gift bags and a seed paper to be planted, let us know when they bloom, post your pictures on Facebook and Twitter with #thrivewithmassamta!