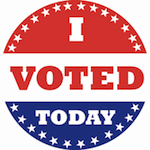 Who's relieved to be finished with the election season?
No more political arguments with neighbors. No more attack ads when you just wanted to look at videos of cute cats online. Sure, all this stress means more people in need of a massage, but wouldn't it be great if elections could be less painful and more productive?
*What if there were rules for candidates about things like negative campaigning?
*What if, instead of party affiliation, you could vote for candidates based on their qualifications?
*What if you were given detailed job descriptions so you could make sure that the position was a good fit for the person you were voting for?
*What if you could ask candidates questions using social media, and get straightforward answers in response?
If this sounds great you're in luck, because it's AMTA election time! This year there is an outstanding group of candidates for the AMTA National Board of Directors, and the Commission on Candidacy, so go get your vote on!
What positions are up for election?
We are electing one President-Elect, one Vice President, three Members-at-Large, and two Commissioners on Candidacy. The President-Elect will begin a three-year term on March 1, 2013 and all other board and commission positions are a two year term beginning March 1, 2013. Not sure what all those fancy titles mean? Read the job descriptions on the AMTA website.
When and how do I vote?
You should have received an email from AMTA National around November 1 or 2, which contains an individual login for voting. Can't find it? Don't panic. Go to the voting login page and click the link to have the information emailed to you again.
The AMTA elections are open through December 1, 2012, 11:59 pm Central Time. (That's 1:00 am on December 2 here in Massachusetts.) You might not want to leave it until the last minute, though. You don't want to feel rushed into a decision at 12:52 in the morning!
AMTA is all of us.
Through elections, we drive the direction of our organization and our profession. Want to make a difference? Vote now, and let your voice be heard!