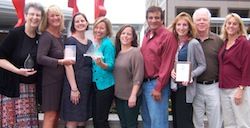 Your chapter leadership attended the AMTA National Convention earlier this month. Let's hear some of the highlights of their experiences at this important national event!
Connecting with amazing people: This included shining stars like Pediatric Massage Expert Tina Allen, Massage Therapy Foundation President Ruth Werner, AMTA National President Cynthia Ribeiro, and a host of online friends who had never met in person before. On Thursday night the leadership co-hosted a reception and mingled with colleagues from Florida, Maine, New Hampshire, New Jersey, New York, and Pennsylvania. On Friday night, President Mary White acccepted the plaque to acknowledge our annual donation to the Massage Therapy Foundation.
Cheering for our Mass Chapter and fellow New Englanders: Ed Connor was given the National Humanitarian Award, and Kelly Dalbec received her Chapter Meritorious Award plaque. In an incredibly touching moment, Dianne Polseno's sister accepted a posthumous Distinguished Serive Award on Dianne's behalf, and a new Lifetime Achievement Award was created in her name, leaving scarcely a person in the room with dry eyes.
Taking on new roles: Chapter president Mary White was elected to a leadership position the Chapter Presidents Council. This year she will learn the ropes as Moderator-Elect. Next year she'll be shaping the vision and conversation of the CPC as its moderator. (We'll be covering more about the CPC in a future post.)
Gathering new ideas: With all the workshops, vendors, meetings, and informal conversations with other chapters, there were many opportunities to glean new ideas to bring back to Massachusetts. Keep an eye out for people sharing new clinical knowledge, new CE ideas, and (as always!) ideas for helping the chapter better serve its members.
Elevating the profession: The House of Delegates voted on several position statements and two recommendations. You can read more about the House of Delegates here.
Inspiring the members: Here were just a few thoughts on the Convention, directly from the Board of Directors mouths:
VP Sr. Pat Dowler said, "I love being in a room with energetic, spirit-filled, passionate massage professionals who want the best for our profession, their practices and their colleagues; who come together to network, learn and share."
VP Kelly Dalbec had an early morning meetup with Membership Chairs from other chapters. "It was great to see what the other chapters are doing for their members. It was also interesting to have other chapters validate the hard work and time that we put in to be such a progressive chapter." Kelly was also hard at work in the exhibit hall wooing samples from exhibitors to bring back to you! But she did take a break, "I was also lucky enough to receive a Zero Balancing treatment from Massachusetts' own Amanda King who had traveled down to NC to give attendees a sample of what Zero Balancing is like."
"[My favorite part was] the opportunity to meet and network with professional around the country. The learning and sharing within the workshops and social time was invaluable. I have returned energized and look forward to returning to work," said Treasurer Farris Ajalat
VP Lisa Curran Parenteau made the rounds in the exhibit hall, "I LOVED meeting Nina Howard of Bellanina. I loved learning about the Bellanina Facelift massage and I really loved receiving one... Addressing aging skin and massaging the muscles of the face to increase elasticity and overall health makes a lot of sense to me." (Secretary Patty Jaworsky enjoyed a mini facelift massage, too.)
Were you at National Convention? What did you bring back with you that will elevate our profession and our chapter? What about your life will be different from before?