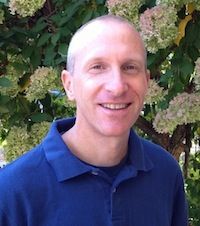 I bet you have a few ideas about what you'd do with $1,000, but have you ever wondered what the winner of the Dianne Polseno scholarship awarded by the AMTA Massachusetts Chapter scholarship is actually doing? Well, wonder no more!
Matthew Padulo was a student at the Bancroft School of Massage Therapy when he applied for the scholarship. In his essay, his passion for educating others and "introducing clients to the bodies they live in" came through loud and clear. Matthew has since graduated from school, and was kind enough to take a moment to update us on what he's been up to since winning the scholarship.
Where are you working since receiving your license, and what do you enjoy about your work?
Matthew: The Spa at Sports Club LA Boston. It's such a great working environment. The majority of my treatments are a blend of deep tissue and Swedish. I've really enjoyed teaching clients that say "I can take more pressure" how their bodies are telling me they can't and why. Helping clients realized that just because they can "endure" more pain doesn't mean that makes a treatment more therapeutic. (We happen to know that in September, Matt was awarded Therapist of the Month at his job. Nice work!)
How have you used the scholarship money?
Matthew: Amazingly, I haven't spent a dime yet! I've really wanted to take the summer to figure out my role as a therapist and feel out which direction I'm most drawn to. I'm very honored to have received this scholarship and I want it to be used towards learning an area of study that is meaningful and truly calling me. I promise to let you know just as soon as I do!
What are you loving about your new massage therapy career?
Matthew: Working as a therapist really has been life-changing for me. Every treatment is an opportunity to help a client live the life to which they aspire. This is a message I love sharing.
What are some of the challenges you face as a new massage therapist?
Matthew: Having worked for myself for the past 10 years in the remodeling industry it has been challenging to now work for someone else. In construction there's a saying that bears repeating here. "It's all about the tools". When you don't have or can't find the right tool, work slows down very quickly. Working in environment where I don't have full control over my "tools" will always be a challenge for me.
What's something you've learned that you feel is really important?
Matthew: I've found that educating clients plays a huge role in how successful a treatment can be. Let's face it: Knowledge is power and pain is a great motivator. Once clients realize they have to participate in their own wellness and have the ability to help prevent the discomfort their feeling, it can be really empowering.
Clearly, we can look forward to many more great things from this new massage therapist. The AMTA Massachusetts Chapter is extremely proud to have been able to support Matthew in his education and his career.