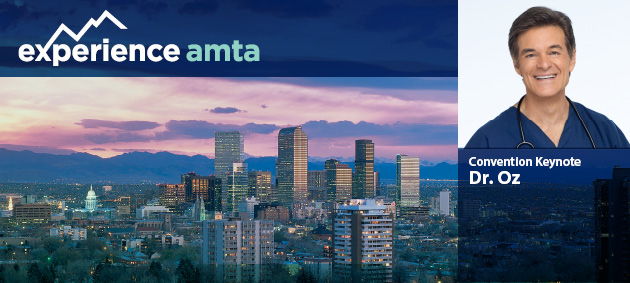 On September 17-20, thousands of massage therapists converged in Denver, Colorado for the most well-attended AMTA National Convention in recent history. From the leadership education to the dynamic keynote speech by Dr. Oz to the Student Day to the Teacher's lunch where Susan Salvo was awarded the very first Dianne Polseno Lifetime Achievement award, it was a week full of community and action.
AMTA-MA Chapter sends its Board of Directors and elected Delegates to National Convention to represent you, the member. Each of the chapter leaders attended a variety of meetings, classes, and special events created to help guide the organization at a national level and equip volunteers to serve members at a state level. Each volunteer gets something different from their convention experience. You can view the video highlights and read about our AMTA-MA Chapter volunteer's experiences below And remember, the 2015 National Convention is in nearby Pittsburgh, PA on August 19-22, so save the date and prepare to experience AMTA convention for yourself in 2015!


Once again, the National AMTA convention in Denver was full of excellent continuing education programs, networking and socializing opportunities, glorious weather, great sights to see and great food to sample. I attended a workshop "Reading A Research Article" which is helping me to continue to grasp the complexities of doing, reading & evaluating massage research. I also attended "Making Taxes Less Taxing" which gave me more ideas on how to save money and not wave a red flag when I go to do my taxes in April.
As the presenter said, "You don't want a love letter from the IRS!" Despite the subject matter of these two workshops, they were very interesting & informative. And if it saves me even a little on my taxes, its worth it!
Kate Peck
1st VP, Delegate
What a wonderful time the 2014 AMTA National Convention was! The education was great, and I thoroughly enjoyed my full day class, Hip, Pelvis and Sacrum class. The best part of the class that the techniques were new and fresh, and can be immediately implemented into my treatments...yeah! The Denver area was fun and exciting to experience...Lots of interesting restaurant and food choices, plenty of activities and excursions, and the Convention Center was accessible to the hotel. On a whole, the conference had alot to offer, including an inspirational and enlightening speech by Dr. Oz! It was a great, supportive and innovative experience!!!
Gail Dobinski, LMT
3rd VP, Delegate
National Convention in Denver was a wonderful experience. I took a mixture of hands-on and theory classes. In several of them I heard how important our work is for the medical profession, from Dr.Oz as well as from a dermatologist and a research scientist.
Regine Ryder
Head Delegate
This was my first National Convention. WOW! I was surprised when Nancy (AMTA President) announced me as National Humanitarian winner. To quote Mary, very humbling. Lots of folks came up to me during the week to congratulate me. I connected with Melissa (DC Chapter President), I met her in CA at one of the Best Buddies Challenges.
Classes were excellent, I focused on Research and learned plenty, so I will be armed for the next House of Delegates. The research presenters urged us to take the on-line learning, which I intend to do. Note to self: check the weather, it was a lot hotter in Denver than I expected.
Cynthia Sykes
Delegate
This year during Chapter Leadership Training I attended the class "promoting your chapter". It offered a great opportunity to learn what other states were doing and what we were doing right to help promote the Massachusetts chapter to therapists throughout the state.
My favorite class was called Spinning the Hip: 360° Manual Techniques. It was taught by Dr. George Russell and full of information and humor!
Kelly Dalbec
2nd VP, Delegate
After a year's planning I conducted this year's Chapter Presidents Council. The CPC serves as a forum for chapter presidents to identify chapter needs, provide peer support and share resources. Also, CPC is an avenue of communication between chapter leaderships and national staff and the elected national officers.
At the Massage Therapy Foundation reception I was honored and humbled to be the recipient of this year's Performance Health Humanitarian Award. From the press release, "This is the most humbling experience of my professional career, and now that I have had time to digest it, it is also the highlight of my career. To be honored with those that have gone before me as recipients is certainly an honor. Bob King was the most amazing mentor to me and told me to get involved back in the early nineties, so I did. I followed him around New England to take his classes for years. To receive this award six years after he did, engraved with a quote from him, is very serendipitous to me.
"The Massage Therapy Foundation does an amazing job for the entire massage therapy profession and to be able to volunteer and make connections that help the MTF is truly a joy to me. My hope is that I am an inspiration to others to jump on board and support the Massage Therapy Foundation." You can read the full press release here.
Mary White
Immediate Past President
Moderator, Chapter President's Council
My first National AMTA convention was great. I was able to meet and mingle with fellow therapists across the country. Made connections with a few possible presenters for 2015 and beyond. The classes were wonderful. The Myofascial Sports Massage class was my favorite though. The teacher and assistants were helpful, and I learned some new techniques that will be great for my clients.
Deb Baker
Education Chairperson