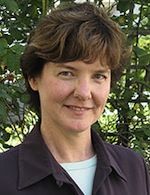 At the AMTA-MA Chapter Annual Meeting on May 5, the 2013 Humanitarian Award was presented to Tracy Walton, for her years of service to massage therapists and the general public in Massachusetts.
When one considers the qualities for a Humanitarian Award several words come to mind: caring heart, calming presence, passionate, service to/for others that goes above and beyond the norm, generous with time and talent, seeking the best for people, one that goes about doing without making a scene. Tracy Walton is no stranger to any of us, and we are very proud to call her our own.
There are several outstanding characteristics or other distinguishing criteria make Tracy uniquely qualified for this award.
In her own words, "Sometimes teachers appear when you ask for them. Sometimes they appear anyway. True teachers are often different from what we expect… (And) nevertheless transmit whatever we need and are ready to learn." Such a teacher is Tracy Walton.
Just 20 short years ago people graduated from massage therapy schools learning that massage therapy spreads cancer. As a result, many cancer patients were denied a benefit we now know to be important to them as they navigate through this terrible disease. Today, thanks to Tracy Walton and her passion for her work with oncology clients, massage therapy is embraced and recommended to cancer patients in part because of the research and work she pioneered. Tracy Walton developed guidelines for oncology Massage that are today at work in hospitals, massage schools, and clinics across the country.
In Tracy's practice she uses guiding principles and practices that can be implemented across a broad spectrum of client presentations, in a variety of massage settings. Tracy looking closely at the dynamics of how cancer spreads and brings new light to the old myth that massage was contraindicated.
Despite being a successful author and national presenter, she continues to work in her private practice with cancer patients. The following story, as told by Tracy, comes from one of those client experiences:
"A home where someone is actively dying is like a different culture, with its own rhythm and code of behavior. The house has a palpable pulse: slower, deliberate, everything organized around the vigil. Conversations may be hushed or hollow, or may be especially warm or reflective. Pretense is often scrapped for the mean, authentic moment. Meals are skipped. Unopened mail lies in piles. Calls are screened and dishes pile up in the sink. Emotions tumble out in surprise attacks, or they are held close and dear until it's over."
"My last session with her was on a Thursday night, a point in her journey when regular massage would have been too stimulating. She was barely responsive so I simply held her head, her shoulder, stroked her arms. When someone is trying to leave their body, hold it quietly. Touch should not ask too much of the body, nor pull it too close. It should cradle it instead, letting it rest between efforts. I sat at her head. A friend of hers sat holding her feet dearly, saying goodbye. Curtains fanned us from the open windows. When I left, my client slept in her darkening room, a luminous moon sliding across her feet. She died two mornings later."
It is because of her wisdom, compassionate, and her endlessly caring heart, the Massachusetts Chapter is proud and honored to award Tracy Walton the 2013 Chapter Humanitarian Award and nominate her for the National Humanitarian Award.
You can learn more about Tracy Walton and her extensive work in the massage field at tracywalton.com, don't miss the associated blog here.