After working at a Women's Veterans Retreat, Sheila Checchi, LMT, knew that even more could be done. There was a young veteran, in particular, who she felt compelled to offer complimentary massage therapy but being 2 hours away was prohibitive. That's when she reached out to us at the AMTA-MA Chapter to share her story with you, her fellow chapter members. I sat down with Sheila and she talks about her volunteering experiences, her work with Project New Hope MA and tells us how we can get involved.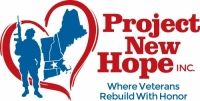 How long have you been a massage therapist and where do you currently practice?
I started my practice in 2002 and I'm blessed to be working with friends at their chiropractic office in Groton, MA.
What are your volunteer experience(s)?
I've had a lot of fun over the years with volunteering. One especially fun evening was when I provided chair massage at a local cafe, where we transformed the cafe into Beach Party Night. The event was complete with palm trees, beach balls, grass skirts, live surf music, food, raffles, and lots of laughs. We do this in February, when everyone had enough of the cold and winter. All the money that was raised was donated to the North Central Massachusetts Habitat for Humanity.
I also volunteered for a Teacher Appreciation Night where local businesses donated goods and services for an evening just for the teachers in our community and surrounding communities. Every teacher received recognition for all that they did and some pretty nice swag! Dinner was provided along with live music and raffles. This night was held in June, right after school ended, and it's a blast!
What is Project New Hope and how long have you been volunteering for them?
Project New Hope is a 501(c) 3 nonprofit founded in 2010 and established in 2011 by a disabled Air Force veteran, President & CEO William Moore, to help veterans transition to civilian life and to create mutual support and camaraderie among service-members, veterans, Gold Star & Survivor's and their families. It is not subsidized by the Veterans Administration. It is funded by private donations and volunteers.
I started volunteering in March 2014.
Project New Hope Inc. holds a series of weekend-long retreats in relaxed wilderness settings, with workshops and activities, at no cost to the participants. Here, with their loved ones and other veterans, attendees build friendships and get support for the real world. Retreats are run for such groups as families with children, female veterans, male veterans, and Gold Star & Survivor Families who have lost a loved one during military service. Targeted issues include PTSD (post-traumatic stress disorder), TBI (traumatic brain injury), MST (military sexual trauma) drug and alcohol addiction, LGBTQ (lesbian, gay, bisexual. transgender and questioning) and suicide prevention. These and other issues are often hidden or invisible, even to loved ones, and make them harder to identify, understand and treat.
I found out about Project New Hope in an article in our local paper. I reached out to Bill Moore, the founder of New Hope. I also found out that the retreats are held in my home town of Groton. How awesome! Here is a you tube video that explains so much.
Providing massage for the veterans is a privilege , and I am really happy to be a part of their retreats.
How has massage been beneficial for the veterans?
Many of the veterans at the retreats have PTSD. Massage helps with the general anxiety that they feel. Many veterans have told me that they feel so much better after their treatment. We all know about the benefits of massage, and honestly, I can see and feel it right in front of me; deep breathing, shoulders relaxing, and a smile and hug at the end.
During your volunteering experience with Project New Hope, what experience or experiences stand out the most?
I met a remarkable young woman at a retreat who suffered a back injury in Afghanistan. She is recuperating from the injury as well as PTSD. The VA has done all they can and have sent her home with a tens unit and home exercise. I reached out to the AMTA Mass chapter to see if there is a way to inquire if a therapist in the Chicopee, MA area, would be willing to work with her. I have offered her complimentary therapy, but Chicopee is 2 hours away. I know it is a lot to ask another therapist if they would be willing to help this young woman with a sliding scale fee, or some other arrangement, but I feel like for me, it is the least that we can do for her. After working on this young woman at the Women Veterans Retreat, and seeing how much a 30-minute chair massage eased her pain, I felt compelled to reach out to see if there might be someone willing to help. You can contact me if you'd like to offer any service to this young woman by emailing solasmassage@hotmail.com.
How can other massage therapists get involved?
You can contact the founder, Bill Moore, at (774) 243-7859 or by e-mail bmoore@projectnewhopema.org. You can also visit their website at www.Projectnewhopema.org.
Is there anything else you'd like to share?
I want to thank the AMTA Mass Chapter for helping me share this story and make other massage therapists aware of the opportunity to help veterans and their families. It is absolutely the most gratifying work to do!
Do you have a professional story to tell? Is there an organization you've volunteered with and want to share with chapter members? Please email communications@massamta.org so we can help spread the word!