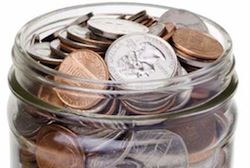 You could get a drink at Starbucks every day for a year. You could buy a new Gibson SG guitar. You could turn the little knob on the gumball machine at the corner store 4,000 times. You could buy a subscription to this blog for massage students. Oh, wait. That's free.
Or you could kickstart your massage therapy career, giving you the chance to show the world what it is you now do best.
That's just what the AMTA Massachusetts Chapter had in mind, which is why they're offering a $1,000 scholarship and a second place $750 scholarship to one massage therapy student from Massachusetts who is enrolled in an accredited program.
But really, what could you do with $1,000 scholarship? How could that money help you once you get out of school? Here are just a few ideas:
Thinking about starting a mobile massage business and doing outcalls to clients' homes? You'll want a lightweight, portable massage table and chair, plus a cart to haul the table around. You could spend $1,000 on that.
Hoping for a room rental arrangement? At $250 a month, you would have your first four months in business already covered.
Feeling generous? You could buy 10 full sets of quality flannel sheets for yourself … and for four of your friends, too. Or buy all 20 students in your class a copy of A Massage Therapist's Guide to Business, out of the goodness of your heart..
Planning to strike out on your own, but worried about how your marketing will stand out in this increasingly competitive economy? $1,000 could buy you a custom-designed website.
You could register for AMTA National Convention, pay for a hotel room, and cover your travel costs, too. That means not only tons of continuing education credits, but the chance to network with some of the biggest movers and shakers in the massage world! (AMTA membership is also included in the award. Nice, right?)
You could use that $1,000 to pad your emergency fund, enabling you to quit your day job and begin the career you've been dreaming of, even if the income starts out a little slow.
Of course, daily Starbucks does sound appealing. But a successful massage career could mean coffee money for a lot longer than just 365 days.
The deadline for applications is April 12, 2014 at 5pm. (There's a short essay involved, so be sure to give yourself plenty of time.)
Your future is waiting for you. Start it right by applying for a scholarship today!