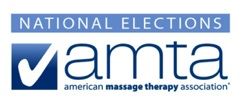 Be among the professional members that shape our association. Vote for our national leaders. AMTA is the premier professional organization and needs top leadership to be a strong voice and guide us to the future. Your vote is needed to ensure that AMTA remains on top and continues to be well represented.
Get to know the candidates. Read each of their biographical sketches. You can find candidate's bio and social media links by visiting the AMTA official election website. Don't be shy, ask them questions or read what someone else has asked. Find out what their vision and goals are for the future of AMTA and the massage profession.
This year candidates have been given the opportunity to create a candidate video clip that has allowed them to introduce themselves to the membership in a more personal way. It too may be accessed from the election website.
Your voice counts in this organization. Make a decision to support one of our core values, 'to be a membership driven organization' and vote. That is what 'member driven' means. Join in. Become a more informed voter and cast your vote by December 1st.
2014 Election Timeline
November 3-5: A link to the online ballot will be sent via electronic mail to all eligible voting members.
December 1: Completed ballots are due.
January 1: Results will be announced no later than January 1 on the AMTA website.
March 1: New officers assume office.
Please contact Colleen Leeders if you have any questions: 847-905-1650 or ckleeders@amtamassage.org