Why should you take Ruther Werner's Research Class at IDEA 2015? Read on to find out and be on the lookout for more of our Bright IDEAs blog series as we provide insight and insider information on our IDEA 2015 Conference educators right up to May 1!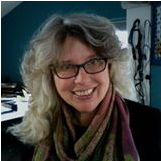 Q. If you could pin down 5 skills practitioners will walk away having after attending your Making Research Relevant Class at IDEA 2015, what would they be?
A. Without a doubt, students will walk away knowing:
1. How to identify the hierarchy of evidence, from anecdote to meta-analysis
2. Where and how to find research on specific topics and search strategies
3. How to manage pay-wall issues
4. Recent findings on fibromyalgia, hypertension, diabetes, depression/anxiety, and pain
5. Ideas for application of research findings to improve business, professional relationships, and client outcomes
Ruth Werner has a message for you!
Bio:
Ruth Werner is a well-known figure in the massage therapy world. She has been teaching since 1984 at schools, on the internet, and in hosting workshops. Ruth has authored two books: A Massage Therapist's Guide to Pathology (5 editions) and Disease Handbook for Massage Therapists. You can find over 90 articles on her website in addition to an upcoming blog, Blog of the Path Queen. Ruth has served our community by presiding over the Massage Therapy Foundation and contributing through different Board Committees. In all of her spare time she creates fabulous quilts! Visit her website www.ruthwerner.com and you will be delighted!